Hemingway Editor and other tools for text proofing and translation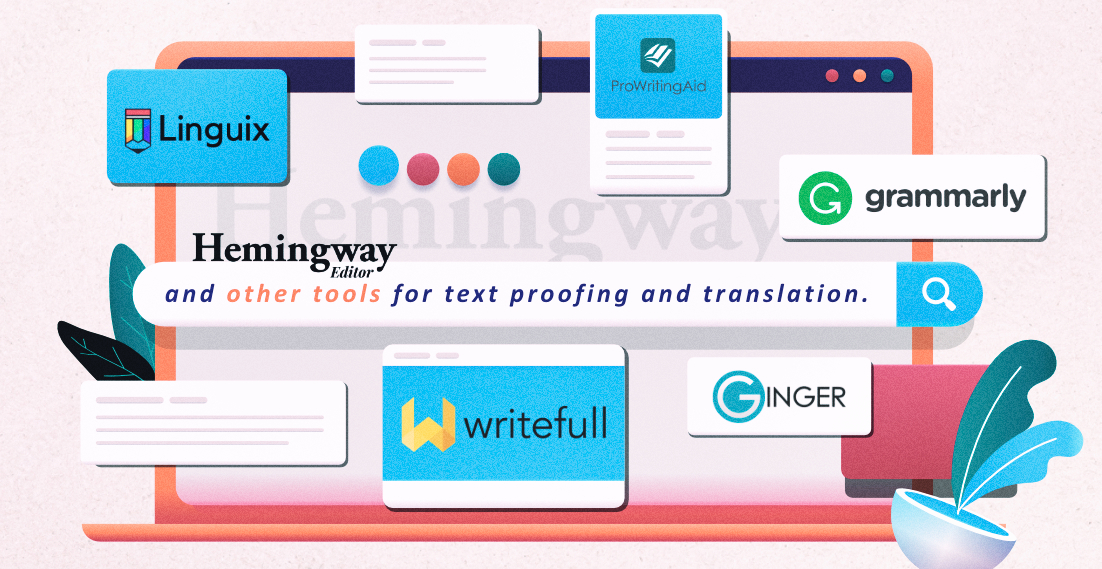 Typically, content writers first note down the message they wish to put across to their audience. Then, they re-read and edit the text. This way, they can achieve better readability, understanding and structure, and at the same time they can correct any errors in the content.
It is a complex process, but fortunately there are many tools that can support writers and proofreaders in this process. Proofreading software can check for different types of errors and even make suggestions for adjustments or even replacement of words.
Hemingway Editor is one of the first and still the most popular online editing tool, but there are also some alternatives you can choose that will help with correcting text in English and other languages and also generate translations.
Join us and work as a translator
The key role of proofreading tools
As we mentioned above, text correction tools have many features. Depending on the specific editor, they work in the browser or as a separate application (they can even be used offline). They provide the possibility not only to edit the pasted text, but as it is typed. They are able to immediately point out the author's mistakes. They often adapt to your writing style and provide tips.
Their primary role, however, is the analysis of text, which aims to make it clear, easy to read, and linguistically correct.
However, let's focus on specific examples to best demonstrate their usefulness in everyday writing or editing.
Hemingway Editor – a classic online editor
First, let us introduce Ernest Hemingway, because maybe not everyone is familiar with him. Hemingway's writing style is often mentioned, although it is not defined by any term, it can be described as clear, specific and even economical in words. The writer omitted everything that was superfluous, did not use elaborate descriptions, unnecessary interjections. His writing style was quite unusual at the time. First, he wrote down everything he had in mind, he let himself get carried away by the creative spirit, and then he corrected errors, while editing the entire work, similarly to Steven King.
Thus, the Hemingway Editor is considered the prototype of online editors for writers. It spots errors and suggests how to correct them. It is very easy to use, it is supported by artificial intelligence that analyses the text, corrects not only grammatical but also stylistic and linguistic errors, and even reviews the text in terms of its readability and comprehensibility. It is not free from disadvantages and the biggest one is the support for only one language, English.
The biggest advantages of Hemingway Editor are as follows:
easy to use – the editor has an intuitive interface, it is easy to navigate and use its features. It presents the results of text analysis in a simple way, it highlights various errors in the text with colours, which allows you to quickly spot them.
supported by artificial intelligence – text analysis in the tool is carried out using AI, which is why it not only indicates errors, but also suggests how to correct them (recommendation algorithm).
improvements in many respects – the editor spots grammatical and stylistic errors, analyses the readability of the text and its comprehensibility. It recommends avoiding the passive voice, underlines repetitions or vocabulary that may be too difficult.
free version – Hemingway Editor can be used completely free of charge in the browser. Downloading the application requires paying a subscription.
Now, let's move on to the alternatives.
Grammarly – not only grammar support
Grammarly is the first alternative and it is also supported by artificial intelligence, which makes it possible to verify the clarity of the message. Of course, it corrects grammatical errors as well. It can be installed as an add-on for a browser and it can be used to correct emails or other text strings you are working on online.
Grammarly's features include:
tone detection – the tool adapts the text to the type of communication, eg formal, informal. For this purpose, it analyses the choice of words, punctuation and phrases used.
plagiarism detection – the editor checks millions of articles stored in the database to detect possible plagiarism. Provides the source and link to the website next to the selected fragments.
Grammarly Keyboard add-on that allows you to use the application on Android and iOS phones.
Grammarly is available in English. You can try it for free, the premium version is paid.
Ginger Software – error-free text
Another alternative solution is Ginger Software, which, just like the two above tools, is based on artificial intelligence, allowing you to work faster and more efficiently. It works in real time, so you don't have to worry about additional processes after writing the text.
The corrections this tool introduces relate to the style, sentence structure, punctuation, grammar and even matching the subject to the predicate.
What distinguishes ginger software from its predecessors is that it works in as many as 60 languages.
Key features:
provides suggestions for specific phrases or fragments, it also suggests the next words to use in the text, speeding up typing. All this thanks to an extensive dictionary and matching synonyms to the context.
makes it possible to translate text into 60 languages, e.g. Japanese, French, Spanish and others. However, they work in a language pair with English.
you can integrate the tool with a browser, as well as Outlook, Word, social platforms.
the editor makes it possible to listen to the text, which gives you an additional opportunity to adjust the clarity of its message.
ProWritingAid – a versatile assistant of writers
ProWritingAid is another tool promoted as a writing instructor, style editor or grammar corrector. It not only helps to detect errors, but also finds replacements in the word explorer or context dictionary.
Additional benefits of ProWritingAid include:
plagiarism check – the tool analyses billions of web pages and highlights sentences that are repeated from other articles.
customization – makes it possible to create dictionaries, style guides, automatic rules, etc.
reports – presents typing data in 20 different reports, presents them in the form of graphs and statistics.
In the free version, ProWritingAid checks up to 500 words and works only in the browser. You can make a lifetime payment to use it without limits.
The tool only analyses English and its dialects (American, New Zealand, Australian).
LanguageTool – a multilingual tool
LanguageTool is a multilingual tool that offers proofreading in over 30 languages and dialects, so you can easily check translations in German, Spanish, Portuguese, Dutch and many more.
In addition, it checks the grammar and style of the text, as well as its tone and choice of words. For professional writers and teams, there are many tool features available in dedicated subscriptions. Unfortunately, in the free version, LanguageTool only provides basic proofreading.
Additional benefits in paid tool packages:
text editing supported by artificial intelligence,
up to 150,000 characters to check simultaneously,
add-on for Word, Google Docs,
style guide,
dictionary for teams,
the ability to manage a team.
WhiteSmoke – an integrated add-on to any application
WhiteSmoke features translation tool that works with any text application. At the same time, it uses a dictionary with full translation into 55 languages.
Additionally, the tool offers the following possibilities:
anti-plagiarism tool that helps to keep content unique,
possibility to be used on many browsers and devices,
document templates that allow you to write in a given scheme,
convenient billing options for the subscription.
The integrated WhiteSmoke tool is available only in the paid version (however, you can choose a quarterly, annual or annual payment plan). It checks the text in English, supports its learning and correct spelling, so it can be used even by people with dyslexia.
Which text correction tool is the best?
Choosing a text correction tool is an individual matter. You can test the free ones first and then decide.
Additionally, it is worth adjusting the tool to your needs. If you are only interested in proofreading in English, clarity and conciseness of the text, Hemingway Editor can help, and if you want to track your writing progress at the same time, then ProWritingAid will report it on an ongoing basis. For translators, tools that allow you to use the translation option, have built-in dictionaries or check text in a foreign language are recommended.
It is also best to choose a tool that you will find the most convenient to work with, so that your daily duties involving the creation and translation of text, can be performed effectively and in a pleasant way.
Read also:
Translation of advertising slogans – how not to fall into the language trap?
Tools useful in the work of a translator – simplifying your daily tasks
Discover the best educational platforms with online courses – TOP 3
Join us and work as a translator