Are you planning to move to the USA? Here are a few tips you have to keep in mind!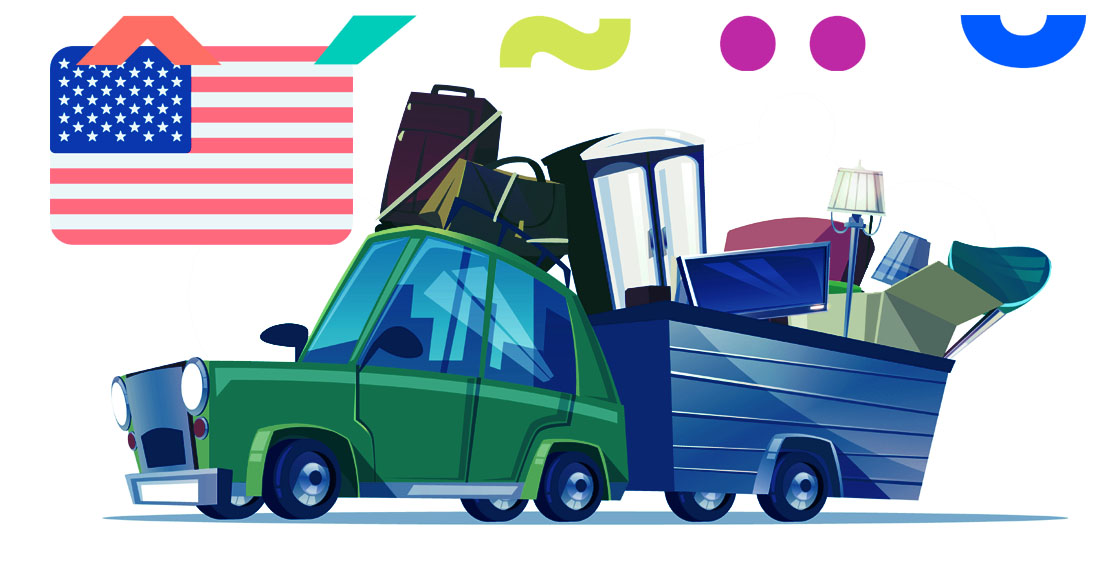 Relocating to the USA is a decision that will completely change your life. A different country, a different continent and contrary to what it may seem – a whole new culture, or rather multiculturalism. Nevertheless, this decision involves taking care of many formal aspects that you need to remember. Changing the everyday environment you're used to also requires taking care of all necessary translations, including CVs, diplomas, and sworn translations of official documents. What do you need to know before moving to the USA?
---
We will help you communicate with anyone, at any time, wherever they are. In all languages.
---
The first steps to take when moving to the USA
Before you take the first steps related to the formal issues involved when relocating to a different country, start by gathering information. You need to know right from the start that moving to the USA is a much more complicated process than when relocating to any country in Western Europe. The reason for this is a very simple fact – Americans protect their labour market. They do this quite effectively by creating a strict visa regime for those who wish to find employment there.
Visa-free travel and moving to the USA – does it apply to you?
You have to be aware that even if you live in a country covered by the US Visa Waiver Program, you cannot move overseas permanently on this basis.This is primarily because the above program gives you the right to visit the United States for travel purposes only. What this means is that economic migration under the above program is impossible.
However, this doesn't mean that your country's US Visa Waiver Program will not help you if you are serious about moving. It provides you with a unique opportunity to leave for 90 days without any obstacles and look for employment while you're there. This is the best way to contact your prospective employer directly, get to know them and think about the next steps towards moving to the US.
How to move to the USA permanently?
Moving to the USA in any case requires you to take the most important step, which is finding a job. Seeking employment during a 90-day trip not requiring a visa is just one of the possible solutions. There are other options as well, and they offer an even greater chance of success. However, you must be aware that you can go to the United States on a permanent basis only if you receive a work visa. Without it, you cannot take up employment legally.
Assigning an employee to a company branch in the USA – L-1 visa
In theory, you'll be in the best position to work for a company that has a seat or registered office in the United States. In this case, you have the opportunity of moving to a country you want to live in as part of your current workplace. You may not be aware but this is quite a common practice and if your current employer provides you with it, it is also a sign that they want what's best for their employees. You should definitely consider staying with that company for longer. A move to the USA itself will then take place on the basis of an L-1 work visa, which is the easiest one to obtain.
Moving to the USA based on the H-1B work visa
Another solution is to travel to the USA on the basis of an H-1B work visa. However, this option may be used by specialist employees, and specific professions which are defined by USCIS (U.S. Citizenship and Immigration Services). Keep in mind that it is not possible to apply for this visa yourself. The precondition in this case is that you receive an invitation from an American employer who, firstly, will want to hire you and, and secondly, will decide to sponsor a visa application.
The entire procedure takes at least several months, and the H-1B visa itself is valid for less than 3 years with the possibility of extending it for 2 further years. However, this is not a good solution for those who are in a relationship, as the spouse cannot enter the US on an H-1B visa. This means separation for the time of performing official duties.
Relocation based on an H-2B work visa
Theoretically, it is also possible to move to the USA on the basis of an H-2B work visa, which applies to skilled and unskilled workers. Nevertheless, obtaining this visa is almost impossible. Similarly to the H-1B visa, the initiation of the application process also begins with an invitation from the prospective employer. There is one difference. That employer must prove that it could not find an employee for this specific position for a very long time. In addition, the employer has to obtain a certificate from the US Department of Labor stating that there is a shortage of workers in this profession in the USA. As you probably guessed it, this task won't be easy.
H-3 visa (internship) and O visa (extraordinary ability)
In addition to typical work visas, moving to the USA may result from travelling for the purpose of completing an internship on the basis of an H-3 visa. In this case, the procedure will not be pleasant either, because it must first be organised by the employer, and the internship itself cannot last longer than 2 years. Secondly, you can complete the internship in a different profession than it is expected from your education. Thirdly, a similar internship program may not be available in your current country of residence.
Another way is to apply for an O visa. Only people with outstanding talent in science, art, business, sports, cinematography and other areas can apply in this case. During the application process, however, you will have to prove your extraordinary ability, additionally confirming it with feedback. However, you cannot apply for the O visa yourself, and therefore your future employer must participate in the entire process.
What is the visa lottery and how does it work?
The easiest solution to move to the USA is to obtain an immigration visa as part of the visa lottery. It is organised every year. Who can take part in it? First of all, people who meet all the requirements of the program. The key requirements include originating from a country that qualifies for the visa lottery program. Additionally, you must have at least a high school degree and have a work experience of at least two years in the last five years in one of the preferred professions. Those are basically all the requirements and if you match the above criteria, you can participate in the program. However, you must be very lucky, but it is always worth trying and giving your luck a chance.
Moving to the USA and translation-related requirements
Obtaining a work visa is the first and most important step towards moving to the USA. Before you fly out, however, you should think about the translations you will need with your relocation. Remember that you will change your everyday environment, therefore you should have translations of documents needed on a daily basis. These include a birth certificate, marriage certificate or diploma and professional certificates. You will also find it helpful to translate your medical records, especially if you have had a serious illness in the past.
How to prepare for a trip to the USA?
In addition to translations and documents, you should also prepare a to-do list before your departure. If you have pets, what will happen to them after you leave? What will you do with your current flat/house? Will you take all the items you have in your home with you? Also, remember to terminate any contracts such us with the telephone or internet provider so that no unnecessary costs are charged after you leave. If you cannot do this before departure, authorise a trusted person so that they can terminate these contracts as soon as possible. The same authorisation will be useful in the event of selling a car, etc.
What you need to know about relocating to the USA
Moving to the USA is a very serious decision that will change your entire life. The first step will be to find a job overseas, otherwise you will not be able to spend more than 90 days there under the visa-free regime. After you have dealt with your work visa and found employment in the United States, make sure that you have translated all the key documents such as the birth certificate or marriage certificate. Also, prepare a list of things to do before departure, such as, selling or leasing your flat or house, terminating the telephone subscription or preparing an authorisation for a trusted person who will take care of some of the formal aspects for you during your stay in the USA if you didn't manage to handle them before departure.
---
We will help you communicate with anyone, at any time, wherever they are. In all languages.