TOP 8 languages for e-commerce purposes. Sourcing customers around the world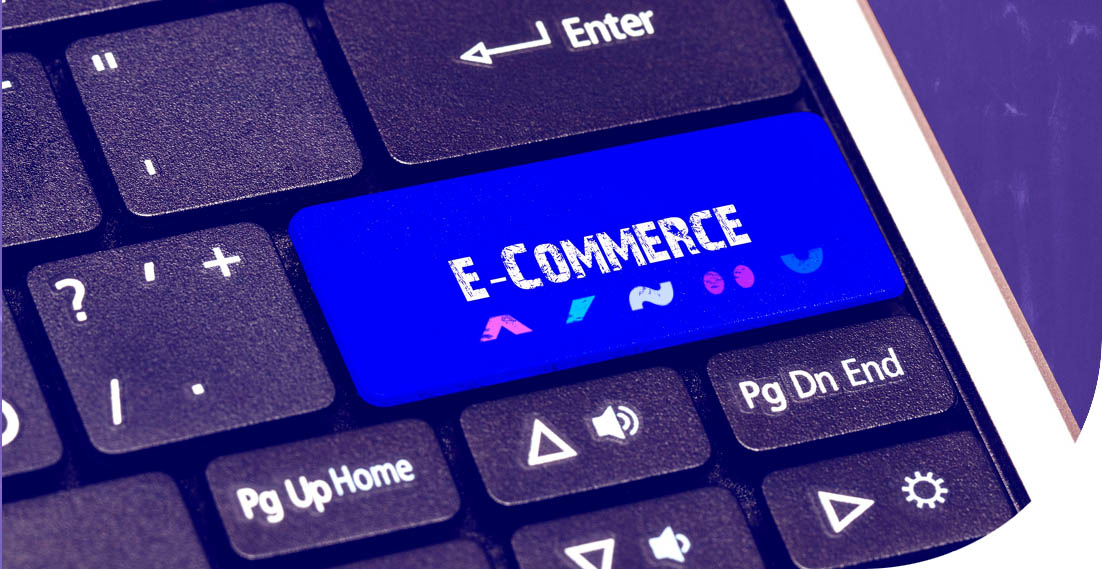 Do you manage an e-shop and want to source customers abroad to increase profit? Translations will be the basis for reaching foreign recipients with your offer. You need to start speaking their language and adjust product or service descriptions to the country where you intend to sell them.
You're probably wondering which languages to start with. It turns out that if you translate an online shop into 8 languages, you'll reach up to 80% of users who shop online.
Still not convinced? We have some statistics on this and information on languages, countries and the development of the e-commerce industry, which creates great opportunities for e-shop owners.
We translate for e-commerce
What languages do 80% of web users speak?
The top 8 languages for e-commerce are English, Chinese, Japanese, Spanish, German, French, Portuguese and Italian. These are the languages with the greatest potential for online sales.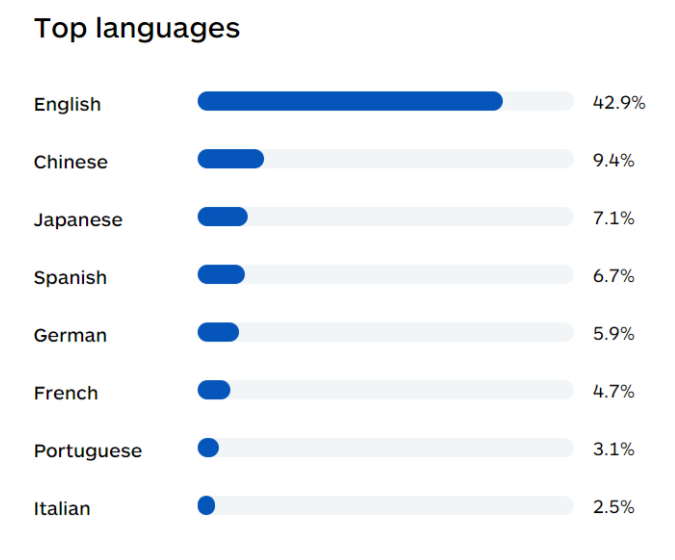 Source: https://redokun.com/blog/translation-statistics#toc-2
However, let's take a closer look at each of them to understand why translations into these languages generate great potential for online sales.
English
English is the international language that has the most native and non-native speakers worldwide – as many as 1.5 billion people! It is used as the second most common language in schools and the most frequently chosen language in universities.
Besides, English is the most popular language on the Internet. As much as 25.3% of all content on the web is offered in English.
Interestingly, apart from the British, the Dutch, Danes and Finns also speak excellent English. Hence, if you want to reach them with your offer, translations into English (apart from native languages) will be the best option.
Chinese and Japanese
Mandarin Chinese (or Standard Chinese) is another language spoken by a large number of the world's population. An estimated 1.1 billion people speak Chinese. It is another international language that is also used by the largest number of native speakers.
19.8% of content on the web is created in Chinese, which makes it the second most popular language on the internet, just behind English.
Japanese is the second most popular Asian language. It is used by almost 125 million people. Japan itself boasts one of the largest economies in the world, as well as a stable consumer market. Foreign expansion to the Land of the Rising Sun is therefore a move with perspectives for the future.
Both Chinese and Japanese are among the most-frequently mentioned business languages. Every year the number of job offers for people who know these languages is growing. Many global companies, especially those operating in the technology sector, have their headquarters, branches, wholesalers, production plants or warehouses in Asia.
Spanish, Portuguese and Italian
Spanish is the third most popular language on the web (8% of all content). It is used by almost 550 million people in the world. It is also in the top 10 languages that is chosen as the second one to learn.
Spanish is an official language in 20 countries. In total, Spanish is spoken in as many as 135 countries or their regions. There are different variations and dialects, but the differences still make them mutually understandable.
Portuguese is the ninth most spoken language in the world. Its Brazilian variety has a big influence on it. In total, Portuguese is spoken by almost 258 million people in the world. Besides, it is an official language in Equatorial Guinea, East Timor and even in Macau. So it can be found in different parts of the world.
Italian is the language spoken by 125 million people. Apart from Italy, it is the official language of the Vatican and San Marino. It can often be heard in France, Malta, Switzerland and Istria, an area on the border of Croatia, Italy and Slovenia.
German and French
German is spoken by 95 million people and studied by around 80 million. It is one of the official languages of the EU along with English and French. German is called the language of culture and science – many literary, philosophical and scientific works were originally written in German.
In addition, Germany is in the top three countries with the largest exports of goods and services in the world. Native speakers often also shop internationally. On average, every third purchase of a German is made in an online shop from another country.
French is spoken by about 80 million people, of which about 67 million are native French, about 4.5 million Belgians, about 1.5 million Swiss, and about 8 million inhabitants of regions of Canada where many companies have to communicate in the two official languages of the country – English and French. By translating your shop into both of them, you can successfully target the Canadian market.
In total, French has the status of an official language in as many as 22 countries around the world. These include, for example, Monaco, Luxembourg, Haiti and Madagascar.
Statistics and research on translations in the e-commerce industry
In 2022, PayPal conducted a research where 57% of online shoppers said they buy products internationally. Two out of five global online consumers have made such purchases in the last three months.
In another research, the majority of online shoppers said that they mainly pay attention to online shops where product descriptions (67%), product reviews (63%), purchasing process (63%) and homepage (62%) are translated into their native language. It is easier for them to make a purchase decision.
What's more, as many as 85% of B2C buyers said that they would not shop on a website that was only translated into English. Although it is the most popular language on the Internet, it cannot be treated as the universal standard.
Additionally, companies around the world that took a risk and invested in translations were 1.5 times more likely to report an increase in revenue.
Nevertheless, not only translations of e-shops generate profits. 84% of marketers say that content localization has contributed to increasing their profit. According to a study conducted by Adotas, as much as 86% of localized mobile ads performed better than their English-language counterparts.
In addition, translations also have a big impact on organic search results. Localization of phrases makes it possible for online shops to accurately target foreign consumers with their offer. 41% of marketers say that they localize their SEO for all markets they are present in, while the remaining 40% do so for selected markets. However, action is necessary to get noticed on the internet.
In general, the global e-commerce sales are estimated to reach $7.4 billion by 2025, with international online customers expected to play the largest role in this growth. Therefore, translations have become an inseparable element of e-business.
Translations of online shops – what does the process involve?
There are at least a few elements of the e-shop that need to be translated into the target language in order to reach the selected markets with the offer. Read on to find out what should be included in content in a foreign language and why it is so important.
Product and service descriptions
Translations of descriptions of products or services offered in an e-shop are the basis for expanding your business to new markets. Their intention is to convince potential buyers to make a purchase in your shop. So what should you focus on when deciding to translate them?
First of all, you must ensure unique descriptions. Even if you get ready descriptions from the manufacturer whose goods you sell, you cannot simply add them on your foreign language pages. First of all, because they contribute to building your image on the internet. Often these are technical descriptions or repeatable slogans that will not have the best impact on associations with your brand. So adapt them to the customers you want to persuade to buy, try to speak their language, convince them of the benefits of shopping at your place.
Therefore, it is best to create descriptions of products and services in the shop's native language, and then have them translated. The translator will localize them in the target language, taking into account the cultural context, and at the same time apply your tone of voice.
You don't feel like you have the appropriate skills to create extensive product descriptions or you just don't know how to do it? Sometimes a few words are enough. Make sure not to duplicate content. For more details, you can refer customers to your blog. And if you don't have one, it's a good time to start. This is one of the best ways to add new content to the e-shop website, which will ensure its positioning.
Besides, it's no secret that duplicate content is not accepted by Google. If the search engine detects duplicate content in your online shop, its visibility in the page ranking will be very low. The low visibility of your shop will make it difficult to be found online, so your plan of increasing its revenue may fail.
Customer feedback
You certainly often pay attention to customer reviews if you are not entirely sure whether a given product will be suitable. Online shoppers do this a lot. They check the ratings, read the comments. Customer feedback is a great way to make your product/service descriptions more attractive. You can encourage both local and global customers to do so.
One way is to offer a system of bonuses for leaving reviews after purchasing certain goods. In addition, it is worth sending surveys or asking for feedback on recent purchases from time to time. It is definitely necessary to monitor what users write about their experience with your shop. Negative feedback cannot be removed, but misunderstandings must be cleared up. Customer satisfaction is the best advertisement for your e-shop, as there is a high chance that they will share a positive opinion with others.
Regardless of which country you sell in, customer satisfaction is the key to success in e-commerce.
Homepage
Usually, your potential customers start with the homepage and become familiar with your offer. Everything must therefore be adapted to the users' location. That includes all slogans, catch phrases, descriptions, graphic content, menu on the website. Similarly, the rest of the subpages need to be properly translated into the selected language. The entire website is your online business card. Users decide whether a given offer is interesting for them on this basis, while deciding whether it is worth shopping in your e-shop.
Their first impression of the website is very important, and content written in their native language works in its favour. Thanks to it, they will easily get acquainted with the terms of purchase, and they will be more willing to contact you when in doubt.
Keep in mind that the "About us" and "Contact" subpages are equally important in the translation. Foreign customers also appreciate the presence of the "FAQ" section which will help to quickly get answers to questions regarding the purchase or the shipping process of products.
Purchase process
At this point, the potential customer got acquainted with your offer, as well as the general activity of the online shop. Then he/she found answers to any questions and now is determined to make the purchase. The entire purchasing process, from the moment of adding the product to the basket, to payment, must be as easy as possible so that nothing can make the customer change their mind.
What does that mean? The need to translate, but also adapt all subsequent steps of the purchase to the target market. For this purpose, you should analyse several factors, e.g. which payment methods are preferred in a given country or how buyers most often pay when shopping.
Any messages that may appear to the user during the purchase must also be translated. Clearly inform the customer about the date of delivery to their address, and also send an email confirming the purchase. Make sure the email is also in their native language.
SEO translations necessary in foreign expansion
Specific rules apply to positioning in foreign markets. The fact that you position your shop on a prepared list of phrases in your domestic market does not mean that they will be effective abroad. It actually happens very rarely. The keywords you want the shop to be visible with when searching on the web must be localized to a specific market. Their translation should be done by a native speaker who will be best prepared in this topic.
You often need to add other phrases that have potential abroad to the already prepared list. For this purpose, you will need to analyse foreign search results related to the products or industry in which you operate.
Then you should include them in product or service descriptions, but that's not all. Keywords must be present in all content on the page. And ideally, new blog content should also be created taking them into account.
The next step in positioning your website on a new market is the translation of metatags. These are the elements visible first in the search results. They must be adapted to the prepared phrases, and sometimes it is necessary to edit them. Auxiliary phrases that the translator can use will be helpful in this case.
An international e-shop in a few steps
So if you want to increase profits in your e-shop, entering new markets is a good idea. By translating your shop into the 8 languages mentioned above, you are able to reach 80% of online buyers with your offer. This is a great opportunity for growth, but you need to invest in high-quality translations tailored to your local audience.
It is necessary to translate all content in the shop, but you should specifically focus on product/service descriptions, the homepage, as well as the "About us" or "Contact" sections. Remember to translate all messages that may be displayed to the user and make it easier for him/her to go through the purchasing process.
However, translations of the content on the shop website are not enough to become visible in foreign search results. It is necessary to make a list of keywords that match your target market. Then customers will easily find your shop and get acquainted with its offer.
Then, the defined phrases need to be placed in all content on the page, as well as in meta tags that have a large impact on the SEO.
Certainly, you don't have to invest in translating your e-shop into 8 languages at the same time. Start with the most popular languages to gradually develop e-commerce. We will be happy to help you with this. At lingy.uk, we provide translations for e-commerce, SEO translations, as well as many other translation services with proofreading by a native speaker, ideally suited to the needs of expansion into new markets.
You can find more about translations for e-commerce purposes in the following articles:
E-shop translation – how to do it properly?
What is SEO translation and why do you need it?
5 More Tips on Making Your Website Multilingual
Reach foreign recipients with your offer